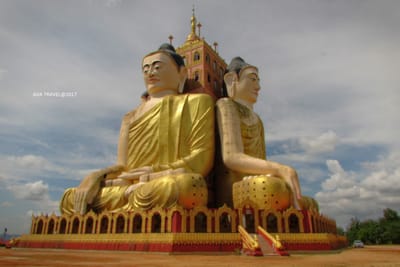 Day 1 : YANGON (RANGOON)
First discovery of the city, astonishing city where mingle the most authentic colonial architecture and many green spaces, gardens and lakes. Visit the Shwedagon Pagoda, "Pagoda d'Or" which dominates the city and which is the symbol of this nation "Buddhist".
Day 2 : YANGON - BAGO- YANGON
Road for Bago, Discovery of the former medieval port of Pegu. Visits: Pagoda Shwemawdaw, Hinthagone Pagoda, the BUddha of COasted Shwethalyang, one of the most beautiful and revered (10th century), Pagoda Mahazedi, the four colossal Buddhas of Kyaikpun. End of the visit of Bago by its picturesque market, then back to Yangon.
Day 3 : YANGON - HEHO - INLE
Flight to Heho in the morning, then route to Inle. Visit to the monastery Shwe Yan Pyay Kyaung then on to the Inle Lake, known for its beautiful gardens and floating islands, cited lake.
Day 4 : INLE
The entier day is devoted to the discovery of Inle Lake, its floating gardens, villages, monasteries and its famous fishermen, Inthas, floating market.
Day 5 : INLE / MANDALAY
The morning flight to Mandalay, the second largest city in the country, the former Burmese capital of the Kingdom, currently booming. Visit of the city that starts with the Mandalay Hill then by the Kuthodaw Pagoda, the biggest book in the world, the Pagoda Kyauktawgyi which contains a huge statue of Buddha, the Pagoda Mahamuni, the Monastery of Shwenandaw.
Day 6 : MANDALAY
Excursion Amarapura the morning south of Mandalay, the ancient capital of the Kingdom. Visit Monastery Mahagandaya and wooden bridge U Bein. In the afternoon, tour the huge unfinished pagoda of King Bodpaya to Mingun, the Pagoda Myatheindan then route to Sagaing. Overnight in Mandalay.
Day 7 : MANDALAY - BAGAN
Flight to Bagan in the morning. Hundreds of buildings remain of what was at the 11th and 12th centuries one of the world's largest cities. Rie in horse-drawn carriage. Visits: market-Nyaung Oo, the Shwezigon Pagoda, Kyansittha U Min, Wetkyi In Gubyaukkyi, Htilominlo Temple, the Temple Shweguyi. Sunset on the Irrawady, the pagoda Bupaya. In the evening, puppet show.
Day 8 : BAGAN
Visits: The morning trip to Mount Popa, sancuary dedicated to the Nats. The afternoon visit to the Temple of Ananda, a symbol of Bagan, Dhammayangyi, Temple Manuha, Nanpaya, one of the largest temples built in Bagan (9th century) Thatbinnyu.
Day 9 : BAGAN - YANGON
Flight to Yangon and further visits to the capital.
Day 10 : YANGON
Visit the city upon your international flight time.